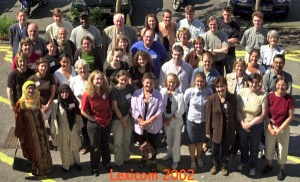 Participants write …
The workshop had a very intimate and collegial atmosphere that I found very conducive to learning. The lectures were interesting and relevant. Overall, I felt the workshop delivered on its promises.
Linguist/Translator, Canada.
Excellent welcome and human relations, people's names known, requests carried out: team couldn't be faulted here – the best I've ever known. Super! Also, excellent course design – progression from easy to hard. Good value.
Linguist/Teacher, Canada.
I think our company would be glad to employ someone who will have finished the master's degree you are starting next year! It's hard to find anyone with a lexicographical background and training, at least in Germany.
Professional lexicographer, Germany.
For me this served as an introduction to practical lexicography. I would like to build on this.
Linguist (mature student), Ireland.
I think it has been a most interesting course / workshop. It has been a delight to listen to the lecturers / teachers. One cannot help noticing that you love what you do …The welcome reception was a very good idea to start the course week. it was personal, and I did feel welcome. You have all been helpful, friendly and witty. I have learnt a lot, and the more I learn, the more interesting the course gets. I will use this knowledge at my work. … It was also nice to meet and talk to the course participants to share each other's problems and ideas, and to chat about other things as well.
Computational linguist, Sweden.
The welcome party was a very thoughtful and kind idea – a very good way of meeting everyone before the course started. It is also a good idea to have one social get-together during the week.
Publishing Manager, England.
There was so much new and interesting information to get hold of in only five days – I was mentally exhausted every single day.
Linguist, Austria.
We really enjoyed the whole course, all the social activities, your hospitable and open and friendly, personal approach. Perfect!
Translator, Poland.
The hard word and constant availability of course directors and helpers made the course effective and enjoyable.
Manager, Government Agency, Ireland.
I have to say that I really liked your being punctual. Classes started on time and everything went as in the programme. As a terminologist I found the course useful for corpus design and I also learnt how to extract and organize information in 'frameworks'. The masterclass with Sue and Michael was more than excellent!
Linguist / Terminologist, Canada.
I have had an interesting, challenging and thoroughly enjoyable week. Any plans to hold an advanced Lexicom for previous attendees in years to come? I – and certainly others – will be trying to use some of the knowledge and skills picked up this week in my future work – thank you!
Linguist, USA.